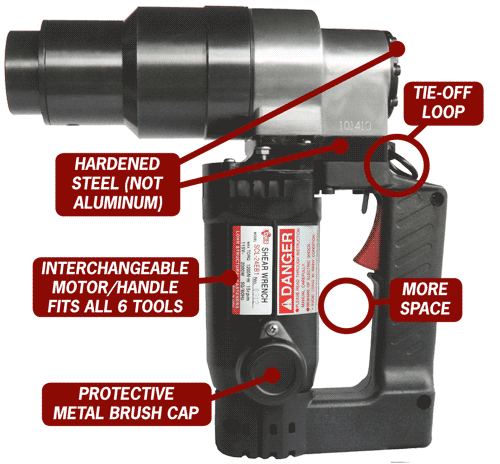 Over the last 25 years, tension control bolts have seen many dramatic improvements. But until now, TC installation tooling has stood still.
To meet the demands of the modern TC industry, Lohr brings its TENSION CONTROL [R]EVOLUTION to TC tooling.  Like our SMARTHEX™ bolt, it just makes sense.
See the INSTALLATION TOOLS menu at the top of the page for photos and specs of individual models.
Unique features:
Interchangeable motor/handle fits all five tools
More space between the motor and the handle
Tie-off loop just above the handle
Brush width and length increased for longer life
Replaceable brush guides
Metal caps protect brush screws and brushes
Durable, lightweight heat-treated steel (not aluminum) used for the back plate and joining the motor to the gear drive
ALL MODELS AVAILABLE IN 110 AND 220 VAC.