We stamp each bolt with a LOT IDENTIFICATION CODE for permanent traceability—even after installation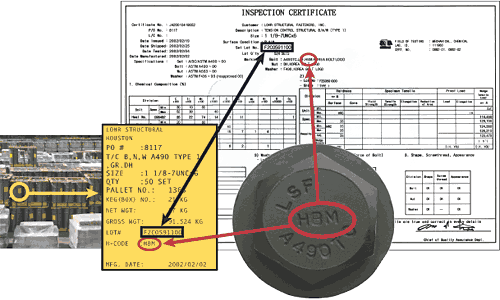 BENEFITS
The ONLY mill-to-connection traceable tension control bolt
Stamped-on Lot ID for quick, on-site reference or inspection—even out of the keg or installed
Traceable Single-sheet certification simplifies paperwork
Provides you with the ultimate QA / QC record
Reallocatesurplus stock! No identification/certification mysteries, surplus from one job can be reallocated to your next project!
Manufacturing Traceability
Bolt, Nut and Washer Lot Traceability begins when the material arrives at the factory. Material is sample tested upon arrival to verify the Mill Certification.
Prior to the start of manufacturing, a traceable ID CODE is assigned for specific lots of material that will be used to produce the bolt, nut and washer assembly. Heat Code information is kept with the products throughout the manufacturing process.
At the start of manufacturing, the assigned ID CODE is stamped on the head of every SmartHex™ bolt. This code can then be traced back to the actual heat lot of material used for manufacturing.